Always prepare every head of hair  with a clarifying shampoo before every hair color service.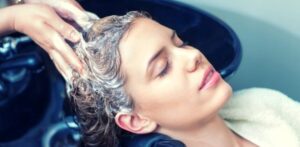 Everyone's hair collects dirt and minerals from the water . Most people also coat it with conditioners and styling products. This often interferes with the chemical processes.
Pre shampooed hair does not interfere with the coloring or lightening action of the product mixes. On the contrary, there is better penetration because the coating free cuticle layer is already slightly lifted, the  slight dampness that is left after towel drying  acts as a porosity filler on the lengths of the hair therefore color result will be longer lasting and more uniform. A pH 5,5 to 6 shampoo that removes minerals is ideal for this. 
The tri organic complex  clarifying shampoo, formulated with certified organic ingredients is ideal for this. It contains NO parabens, salts, sulfates or other aggressive ingredients.