Here they are, staring you in the face: dry chapped lips… a scraggly beard …untamed eyebrows!
No one will notice the parched lips or scraggly beard that are hidden under your mask, but you feel the irritation. You also know how bedraggled you will look once you remove that pesky mask.
Your eyes have become the focal point since you must go out in public while wearing a mask. Ungroomed eyebrows are not what you want the world to see.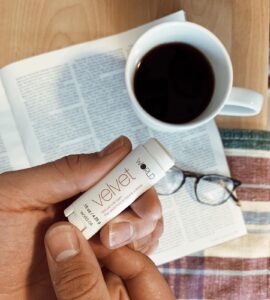 TO THE RESCUE : VELVET, this versatile little stick relieves parched lips and helps you to control your bows, beards and moustaches.
Packed with Vitamin E, Beeswax, Coconut, and Sunflower Oil keep lips and facial hair feeling soft and supple! Therapeutic grade essential oil blends of orange, vanilla and peppermint repair cracked and dehydrated lips by sealing in moisture, reducing pain, and protecting lips from damage caused by environmental pollutants and toxins. 🌎❤️


 WORLD products will always be:
✅ clean & safe
✅ luxurious & effective
✅ multipurpose
✅ fragrance-free
✅ biodegradable
✅ never tested on animals
🚫 sulphates
🚫 phthalates
🚫 parabens
🚫 fragrance
🚫 color
🚫 palm oil
🚫 silicone
🚫 gluten